MOISTURE-RESISTANT
FURNITURE
Moisture resistance is guaranteed by using machine edge banding using polyurethane glue (PU)
STANDARD NOCLAF ®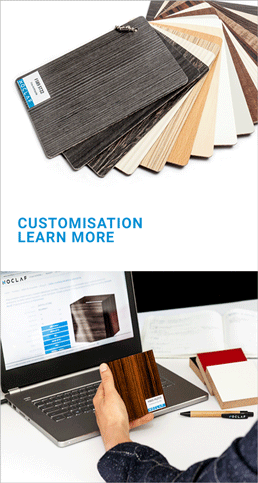 TRANSPORT OF ASSEMBLED FURNITURE
We deliver fully-assembled, ready-to-use products directly to you. Our products have corner guards protecting the most vulnerable parts and are packed in five-layer corrugated boxes. Additionally, every package is put into a case and placed on a pallet. This guarantees safe delivery of your furniture, in accordance with the Noclaf Standard®.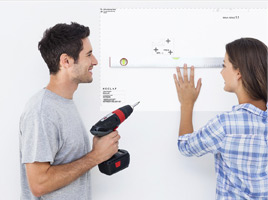 TEMPLATE IN 1:1 SCALE
Every Noclaf product is delivered with a life-size template aiding you to hang the piece of furniture on the wall correctly. The template gives very accurate information on the location of mounting holes. The mounting instruction is accompanied by care and conservation guidelines. The template compliments our idea of comprehensive customer service.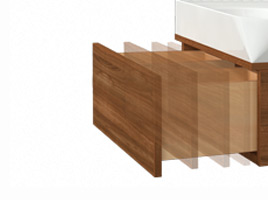 SOFT CLOSING SYSTEM
Soft closing system makes the use of cabinet / drawer easier by slowing the closing element down and dampening its sound. It eliminates the aggressive contact of the cabinet parts, preventing the quick wear of the furniture. Application of the above system increases the safety and comfort of using the furniture.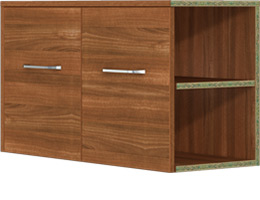 MATCHING BACK PANELS
The back panel of a cabinet, i.e. the part of the carcass close to the wall, is made of the same board, as the carcass. It means that the back is in the same décor and thickness (18 mm), as the rest of the cabinet. This offers not only an aesthetical advantage but also makes the whole furniture piece moisture-resistant and suitable for use in challenging bathroom conditions.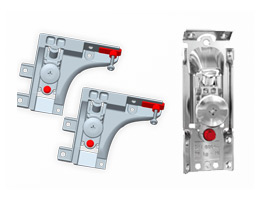 HANGERS WITH SAFETY LOCK
The wall hung cabinets feature hangers with safety lock, which prevents accidental fall of the cabinet. The hangers are mounted at the back of the cabinets and inside they are aesthetically covered. They can be easily and steplessly adjusted to level the cabinet.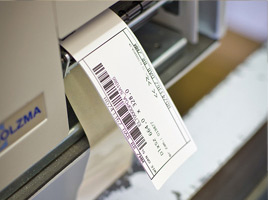 INDIVIDUAL PRODUCT NUMBER
Each piece of furniture manufactured at Noclaf receives its Individual Product Number. This number allows us to identify e.g. the type of furniture, décor, the order number and the realization date. Even years later it enables you to order accessories and additional furniture matching the previously bought products.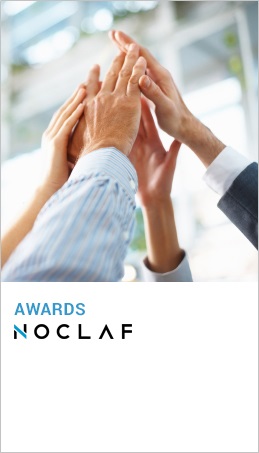 HOW TO ORDER AT NOCLAF?
Click on the Products tab in the top menu to begin the ordering process.
Select a product and see its detailed description and product card.
All our designs can be modified by entering the desired parameters in the appropriate fields. When customizing a product its photo will turn grey.
To receive a free quotation for a product please add it to your wishlist. The wishlist is a handy tab, which allows a quick preview of products that you are interested in.
Description of further steps in the ordering process can be found HERE
visible at all times on the right side of the screen contains answers to the frequently asked questions.